即日起至10月10日,在UA网站注册Offer后,将IHG积分转为UA里程将获得额外50%的Bonus。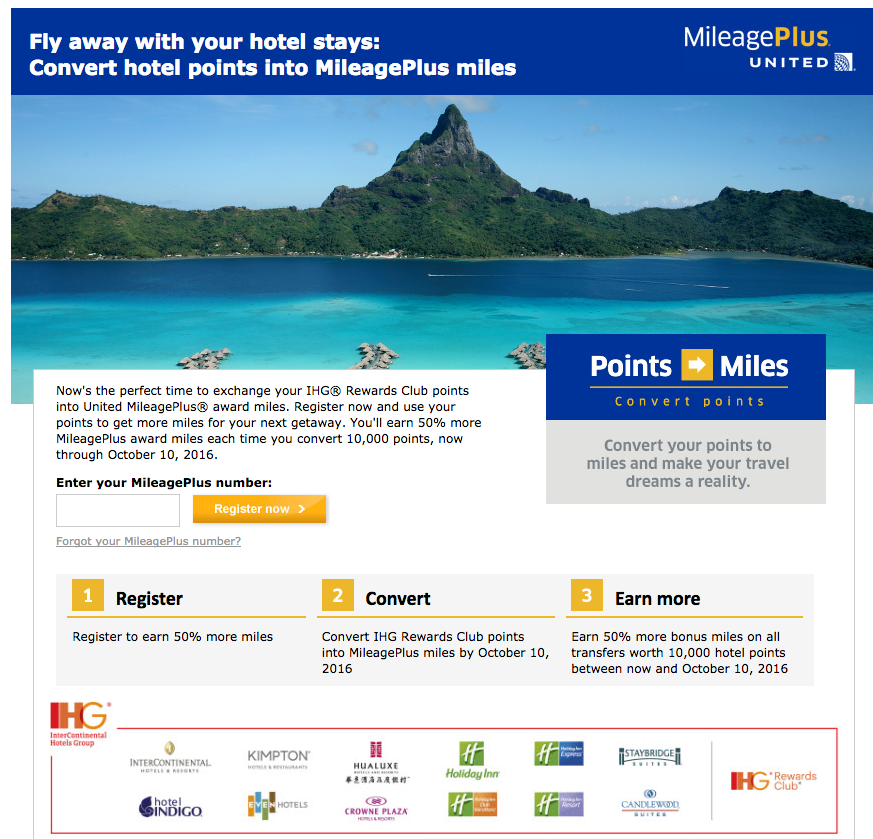 那么就是老生常谈的值不值得转的问题了。
如果是直接将IHG分数转为UA里程的话,兑换方式现在是这样的, 每次10000点起转(图中不含额外50%的Bonus):

IHG现在价值约为0.5cents/point。而UA的MileagePlus目前的价值大约在 1.4~1.5cents/mile。考虑Bonus以后,10000点IHG积分(价值50刀)现在可以兑换3000美联航里程(42-45刀),远比没有Bonus而只能获得2000里程(价值不到30刀)划算。
单从价值上讲即使有这次的Bonus依然还是有一些折损,但是积分从来不是只按照价值计算的,空有价值换不出去还是没有用的,主要看你是飞的多还是住的多。
活动的官方Term:
Registration: To qualify for this offer, members must register for the promotion at www.united.com/ihgpointstomiles between September 10, 2016 and October 10, 2016 ("Promotional Period").

Qualifying Activity: Members who have registered for this promotion will earn 50% more miles ("Bonus Miles") for each conversion of 10,000 IHG Rewards Club points into United MileagePlus miles during the Promotional Period. Members may convert IHG Rewards Club points into United MileagePlus award miles at http://www.ihg.com/hotels/us/en/global/redeem-rewards/miles or by calling IHG Rewards Club Customer Care directly at 1-888-211-9874 (toll-free). The date on which the transfer of IHG Rewards Club points is ordered ("Transaction Date") must fall within the Promotional Period in order to qualify for Bonus Miles.

Posting of Promotional Miles: Please allow 6-8 weeks for miles to post to your account, including Bonus Miles.

General: This offer is not combinable with other MileagePlus offers. Offer subject to change without notice. Other restrictions may apply. Miles accrued, awards, and benefits issued are subject to change and are subject to the rules of the United MileagePlus program, including without limitation the Premier® program (the "MileagePlus Program"), which are expressly incorporated herein. Please allow 6-8 weeks after completed qualifying activity for miles to post to your account. United may change the MileagePlus Program including, but not limited to, rules, regulations, travel awards and special offers or terminate the MileagePlus Program at any time and without notice. United and its subsidiaries, affiliates and agents are not responsible for any products or services of other participating companies and partners. Taxes and fees related to award travel are the responsibility of the member. Bonus award miles, award miles and any other miles earned through non-flight activity do not count toward qualification for Premier status unless expressly stated otherwise. The accumulation of mileage or Premier status or any other status does not entitle members to any vested rights with respect to the MileagePlus Program. All calculations made in connection with the MileagePlus Program, including without limitation with respect to the accumulation of mileage and the satisfaction of the qualification requirements for Premier status, will be made by United Airlines and MileagePlus in their discretion and such calculations will be considered final. Information in this communication that relates to the MileagePlus Program does not purport to be complete or comprehensive and may not include all of the information that a member may believe is important, and is qualified in its entirety by reference to all of the information on the united.com website and the MileagePlus Program rules. United and MileagePlus are registered service marks. For complete details about the MileagePlus Program, go to www.united.com.

IHG Rewards Club® Terms & Conditions apply.