今天部分Chase凯悦Hyatt联名卡持卡人收到了邮件:10月31日前注册Offer(注册后Offer才生效,需要信用卡信息),12月31日前用凯悦联名卡在Hyatt Regency消费累积500刀,返还50刀Statement Credit。
Hyatt Regency属于凯悦旗下比较高端的品牌,质量当然也有保障,对于年内有刚需的朋友算是个很不错的Offer。
尚不清楚是不是Targeted的Offer,没有收到邮件Offer的凯悦联名卡持卡人可以去这个官网页面试着输入自己的联名卡卡号注册一下:https://loyaltyoffer.visa.com/hyattregency/
(感谢热心读者的留言,没有收到邮件的持卡人似乎也可以注册Offer!)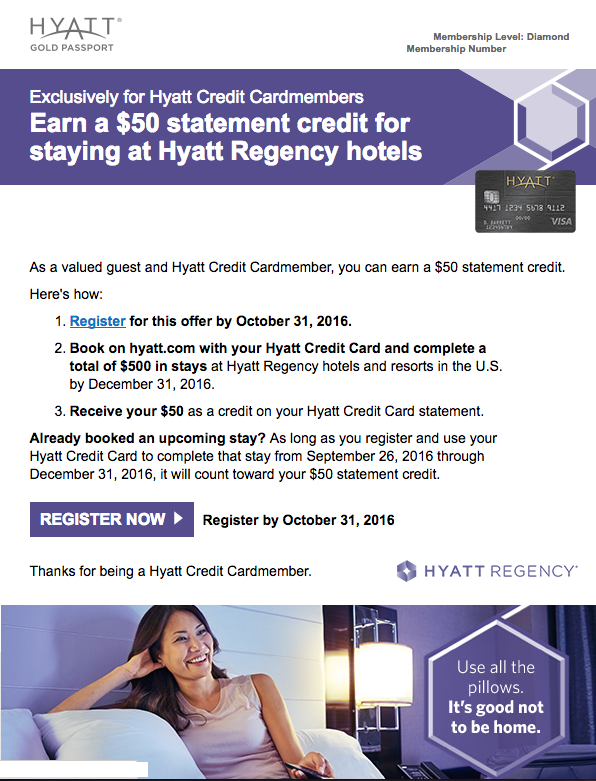 官方Term:
The offer is only valid for Hyatt Credit Cardmembers in good standing who receive this promotion from Hyatt and register for the promotion between 9/26/2016 and 10/31/2016. This offer only applies to Net Purchases made with your Hyatt Credit Card during the promotional period (9/26/16 – 12/31/16) in the amount of $500 or more at a Hyatt Regency branded property located in the United States, and does not include any purchases made at on-property outlets (e.g. restaurant, spa, etc.) not owned or operated by Hyatt. To qualify, purchases must be identified as qualifying Hyatt transactions on Visa's proprietary network (VisaNet). The Hyatt Regency branded property must submit the hotel transactions under the appropriate merchant code for the transaction to be identified as a qualifying hotel transaction. Please allow 6 to 8 weeks after qualifying purchases post to your account for statement credit to post to your account. ("Net Purchases" are purchases of goods and services made by you or any authorized user on your account minus any returns or refunds, and do not include balance transfers, cash advances, cash-like charges such as travelers checks, foreign currency, and money orders, any checks that access your account, overdraft advances, interest, unauthorized or fraudulent charges, or fees of any kind, including an annual fee, if applicable.) Maximum statement credit accumulation during the promotional period is $50 in statement credits. Credit card product changes during the promotional period will forfeit this offer. To qualify for this offer, account must be open and not in default at the time of fulfillment. This offer is non-transferable.
Hyatt reserves the right to alter or withdraw this promotion with a suitable substitute offer of equal value (if legally required) at any time due to actual circumstances. This promotion is subject to the terms and conditions of Hyatt Gold Passport. For terms and conditions, visit goldpassport.com.
The following trademarks are the property of Hyatt Corporation or its affiliates: Hyatt®, Park Hyatt®, Andaz®, Grand Hyatt®, Hyatt Centric™, Hyatt Regency®, Hyatt Place®, Hyatt House®, Hyatt Ziva™, Hyatt Zilara™, The Unbound Collection by Hyatt™, and Hyatt Gold Passport®.