今天部分持有巴克莱飞行员信用卡的网友收到了这样一封邮件: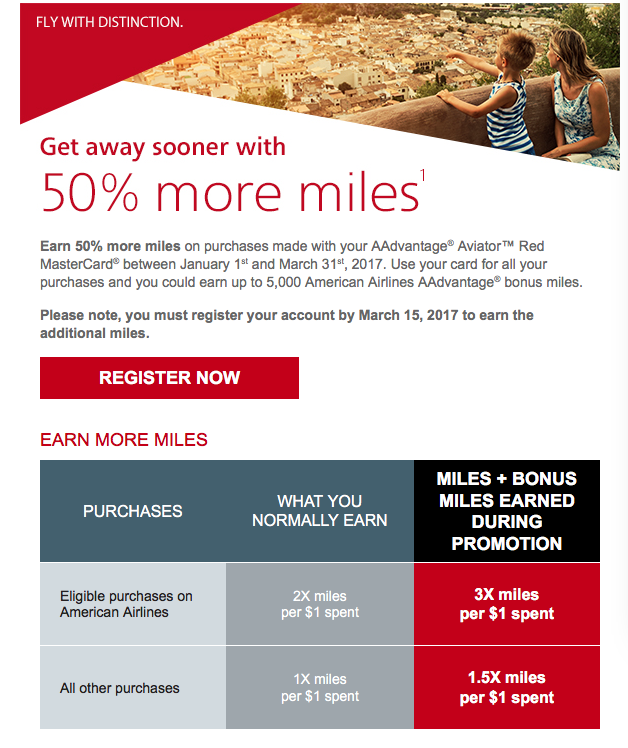 从2017年1月1日至2017年3月31日,使用飞行员卡支付美国航空相关消费,获得三倍里程;其他所有消费,获得1.5倍里程。最高奖励里程上限为5,000美国航空里程。奖励里程将于6-8周打入你的美国航空常旅客账户。请注意,一定要于3月15日之前注册加入此活动。
【注册方法】
点击邮件中的register now
登录你的巴克莱银行网银账户
在界面右侧发现这样一个图框,然后点击: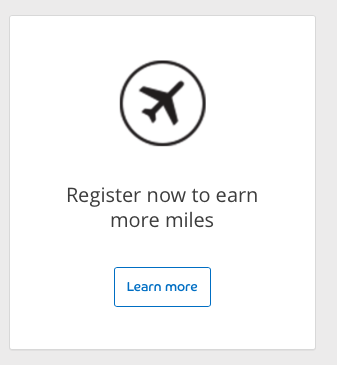 【活动条款】
¹ Offer is valid for select cardmembers and is not transferable. Qualified cardmembers who register by March 15, 2017, will earn a 50% bonus on the miles they earned on purchases made with their card between January 1, 2017, and March 31, 2017 (the promotional period) up to a maximum of 5,000 miles. Bonus miles will not apply to miles earned from other promotions during this period. To be eligible for this offer and to receive the bonus miles, the cardmember's account must be open, active and in good standing throughout the entire promotional period and they must have registered for this promotion by March 15, 2017. Purchases made during periods when your account is delinquent, or your account is otherwise not in good standing as defined in your Cardmember Agreement do not qualify for this offer. You will be eligible to receive bonus miles based on the earn structure of the AAdvantage® Aviator™ MasterCard® product you have at the time of fulfillment. Your bonus miles will appear on your statement 6-8 weeks after the end of the promotion.

American Airlines reserves the right to change the AAdvantage® program and its terms and conditions at any time without notice, and to end the AAdvantage® program with six months' notice. Any such changes may affect your ability to use the awards or mileage credits that you have accumulated. Unless specified, AAdvantage® miles earned through this promotion/offer do not count toward elite-status qualification or AAdvantage Million MilerSM status. American Airlines is not responsible for products or services offered by other participating companies. For complete details about the AAdvantage® program, visit aa.com/aadvantage.

American Airlines, AAdvantage, the Flight Symbol logo and AAdvantage Million Miler are trademarks of American Airlines, Inc.
巴克莱与美国航空的红色飞行员信用卡已经在网上重新开放申请,关于此卡的介绍,请看:
https://travelafterwork.com/2016/12/15/barclaycard-aadvantage-aviator-red-open-for-applications/