希尔顿放出了2017 Q1促销,2017年2月1日到4月30日之间,每完成一个希尔顿房晚(night),获得2000积分,需要先注册促销!
如配合最近的一些希尔顿Amex Offer,回血量还算可以。但考虑希尔顿未来可能的贬值,不太建议强撸此Offer。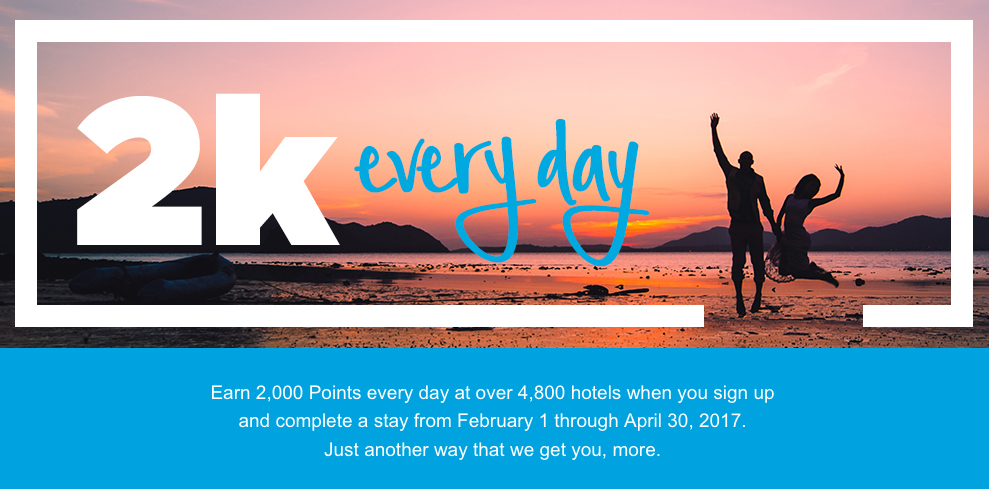 Guaranteed Discount† Free Wi-Fi†† Digital check-in††† Points towards free nights
、
† Valid for current Hilton Honors members only. Rate subject to availability at participating hotels and resorts. Excludes hotels in Mainland China, Macau, Hong Kong and Taiwan. (只适用于Guaranteed discount ) Hilton Honors members booking within a 14 day window prior to their stay will receive 2% off the hotel's Best Available (Easy Cancellation) Rate ("BAR") all days of the week. Members booking 15 days or more prior to their stay will receive 3% off BAR for stays Sunday – Thursday and 10% off BAR for stays Friday – Saturday. Hilton Honors Discount is only available for up to two rooms per member. View Full Rate Terms & Conditions.
†† Must be a Hilton Honors Member. Terms and Conditions apply. Standard Wi-Fi is free. Premium (if available) has a fee. Not free at properties with a resort charge.
††† Available at more than 4,800 participating properties. For more information, visit HiltonHonors.com/app.