现在商家真的喜欢抓紧每一个节日促销,抓紧每一个节日优惠,当然受惠的还是我们消费者啊!
今天是愚人节(April's Fool),但是ebates作为著名返现商家,诚不我欺。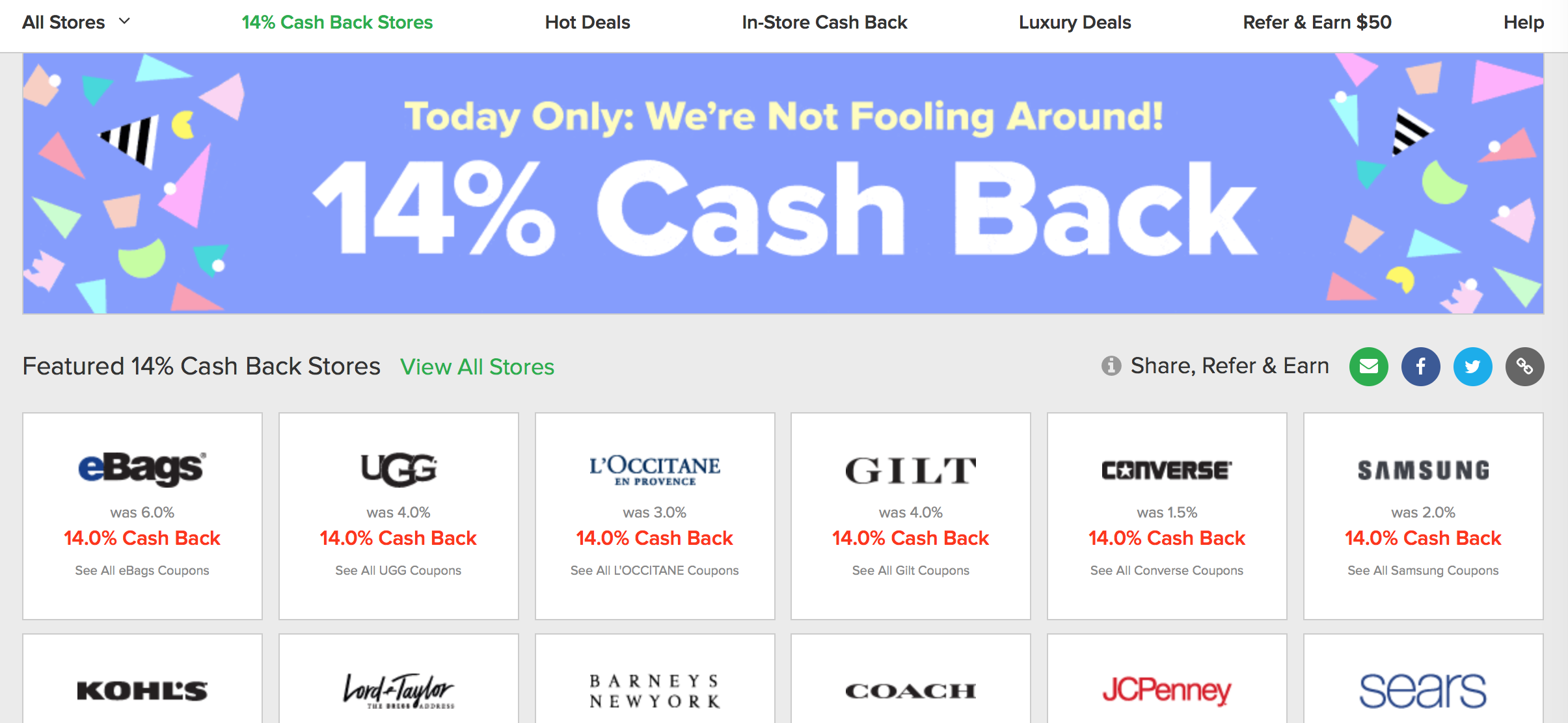 【活动时间】
2017年4月1日,仅此一天,网页上方有倒计时。
【活动网站】
https://www.ebates.com/april-flash-sale.htm
【活动内容】
众多商家14%返现。商家完全名单请见活动网站。
【活动条款】
April Fools Day is a day filled with pranks, jokes, and antics. What's not a joke is the incredible deals you'll find with Ebates. April is starting with a bang and we're rounding up everything you need to score the best sales around. Whether it's a flash sale or a month-long extravaganza, we'll make sure you're in the loop so you can save at your favorite stores.

You may not be able to trust that your coworker won't break out their annual whoopee cushion prank (which let's face it, hasn't ever been funny), but you can rest easy knowing Ebates will help you find the best flash deals around. With this year's April deals, you'll completely forget the shenanigans taking place around you. With sales like these, you couldn't ask for a better distraction. The only "kick me" sign you'd be wearing on your shirt would happen if you passed on these incredible sales. They don't last long, so you don't want to get involved in any tomfoolery and miss out.

With Ebates at your side, you'll be able to pair your Cash Back earnings with money saving coupons. There are no childish games here. With just a click, you can apply the latest coupon codes to your cart. It's no hoax; Ebates will help you find a promo code that works for your order. It's all about making it through the day in one piece and it's all about making your life a little bit easier.

We're starting the month with the best April sales, but we're not stopping there. You'll find plenty of free shipping offers that will only sweeten the deal for the month. Find flash sales, add a coupon, and earn Cash Back with ease, so you can be on the lookout for mischief-makers in your life.
【牧羊场点评】
如果你有正好有刚需,那么14%返现也是不错的选择。相当于八六折了!
大概在一年之前我写过返现注明著名网站ebates.com自2015年年底开始提供实体店消费返现的活动,具体内容请看这篇文章:《Ebates提供实体店(in-store)消费返现!动动拇指你将进入全新返现时代!》。