Chase Ultimate Rewards (UR) is no question one of the best rewards system. Our blog TravelAfterWork has been continuously introducing, analyzing and summarizing how to maximize UR points. It is time to present a complete and systematic handbook to help our readers optimize Chase UR step by step.
Index
What is Chase Ultimate Rewards (UR)
What could you do with Chase Ultimate Rewards (UR)
How to maximize the value of Chase Ultimate Rewards (UR)
How to collect Chase Ultimate Rewards (UR)

Part I. What is Chase Ultimate Rewards (UR)?
It is well established that Chase Ultimate Rewards (UR), Amex Membership Rewards (MR), Citi Thankyou Points(TYP), and Starwood Starpoints (SP) are the four major rewards systems. All these rewards points/miles, whatsoever called, are essentially money. They share great amounts of similarity of money. They have their unique currency, they could be redeemed (purchased) for airline tickets, hotel nights, rental car, etc.
The most important way to maximize with these awards is to transfer them to their partners by specific ratios. I guess it is always easy to spend money instead of earning it. The Chase Ultimate Rewards is issued and managed by Chase. The major resources for these Chase UR are definitely the Chase Credit Card Sign-on bonus and cashback through credit consumption. The famous credit cards in the whole Chase Credit family are Chase Freedom and Chase Sapphire Preferred (CSP), and Chase Sapphire Reserved (CSR).
Here is a quick summary of major Chase Credits:
Part II. What could you do with Chase Ultimate Rewards (UR)?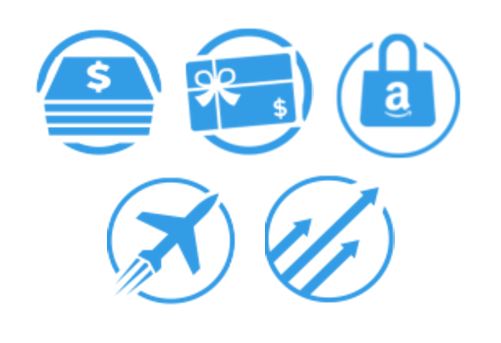 Statement Credit (direct cash out)
The most straightforward is to cash all these rewards/points/miles to statement credit by 1:1 ratio. The so-called statement credit is literally money. It will be used to pay your credit card balance. This one of ways that the bank employs to fool you around since the 1:1 ratio is terrible. We do not recommend cash your Chase UR points to statement credit unless it is 100% emergency.
If you do not hold any premium cards from Chase, such as Chase Sapphire Reserve and Chase Sapphire Preferred, the Chase UR only could be cashed out by 1:1 ratio. However, from the long term perspective, these Chase UR points could be combined and transferred to Chase Airline/Hotel Partners asap you hold one of premium Chase Credit cards. It will increase the Chase UR points up to average 1.6 cents/point.
2. Gift Cards and Amazon Shop with Points
Chase provides an option to convert Chase UR to various Gift Cards by 1:1 ratio. This is even worse than cashing Chase UR points o statement credit considering we could purchase all these gift cards on Ebay or Amex offer or Gift Cards Discount Mall with 20% lower price. Not recommended at all.
3. UR Travel Center
Chase Ultimate Rewards points could be redeemed through UR travel center as a fixed value, just like cash. The converting ratio is up to what Chase Credit Card you hold.
For Chase Sapphire Preferred (CSP), you can redeem Chase UR points as 1.25 cent/point. For Chase Sapphire Reserve (CSR), the redeem ratio is 1.5 cent/point. All the Chase UR points obtained by all of the Chase Credit Cards could combine together. Therefore, the converting value of Chase Ultimate Rewards (UR) is decided by the most premium Chase Credit Card you have (Usually, the higher annual fee, the more premium the credit card is).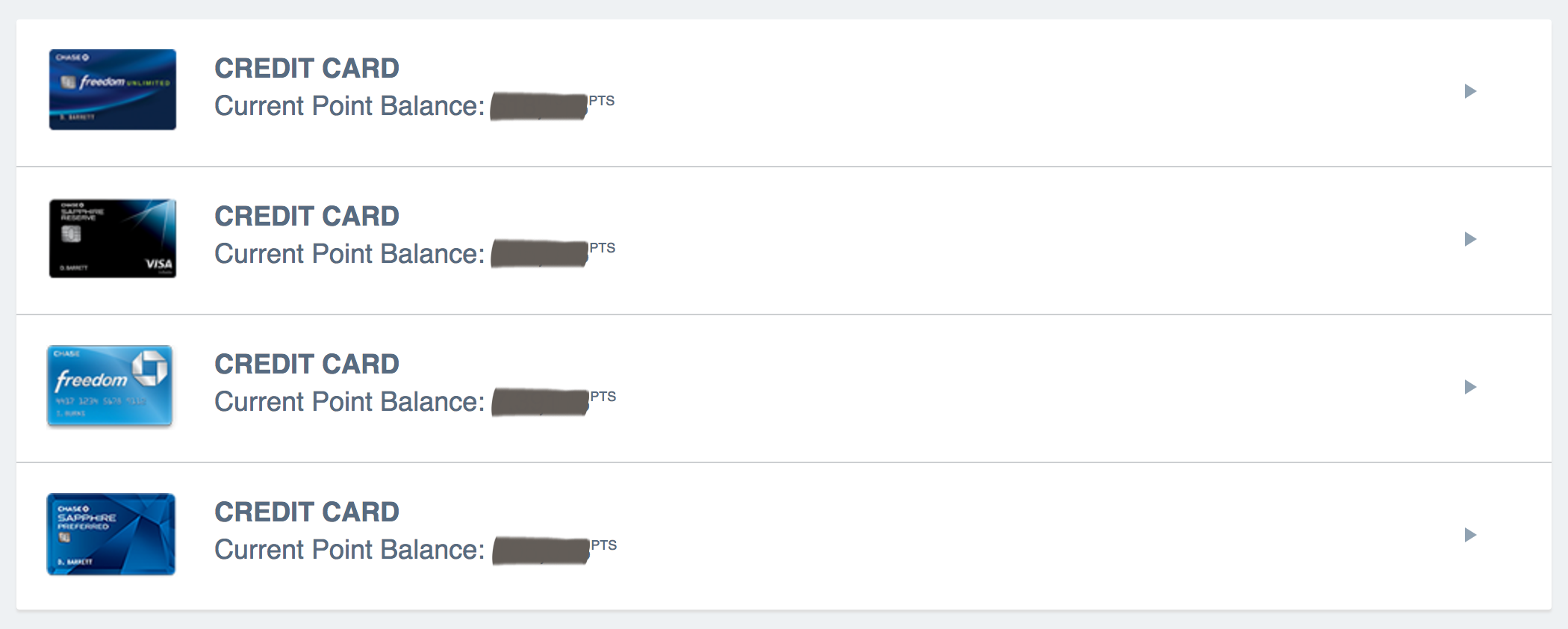 Let's play with an example;
Mike just opened a new Chase Sapphire Preferred (95 dollar annual fee) with a sign-on bonus 55,000 Chase Ultimate Rewards. In order to get the sign-on bonus, Mike has to spend 4,000 dollars, which also can earn Chase UR points. Mike might have 60,000 Chase UR points in total now. He searched a 700 dollar ticket to Paris through Chase UR Travel Site. He intends to use his Chase UR points to purchase this ticket. He currently holds Chase Sapphire Preferred credit card, so he can redeem Chase UR points as 1.25 cent/points. Therefore, the 750 dollar ticket would just cost Mike 60K Chase UR points (60,000 * 1.25 cent = 750 $). This ticket is issued by United Airline. So Mike also can accumulate 3750 UA Miles (750*5). If Mike has Chase Sapphire Reserve, it will cost him 50K Chase Ultimate Rewards (UR) points.
4. Transfer Chase Ultimate Rewards (UR) to Chase Airline/Hotel Partners by 1:1 ratio
IMPORTANT!!!!!!
The 11 unique partners make Chase Ultimate Rewards super valuable. We can transfer our Chase Ultimate Rewards to Chase Partners for free airline ticket and hotel nights.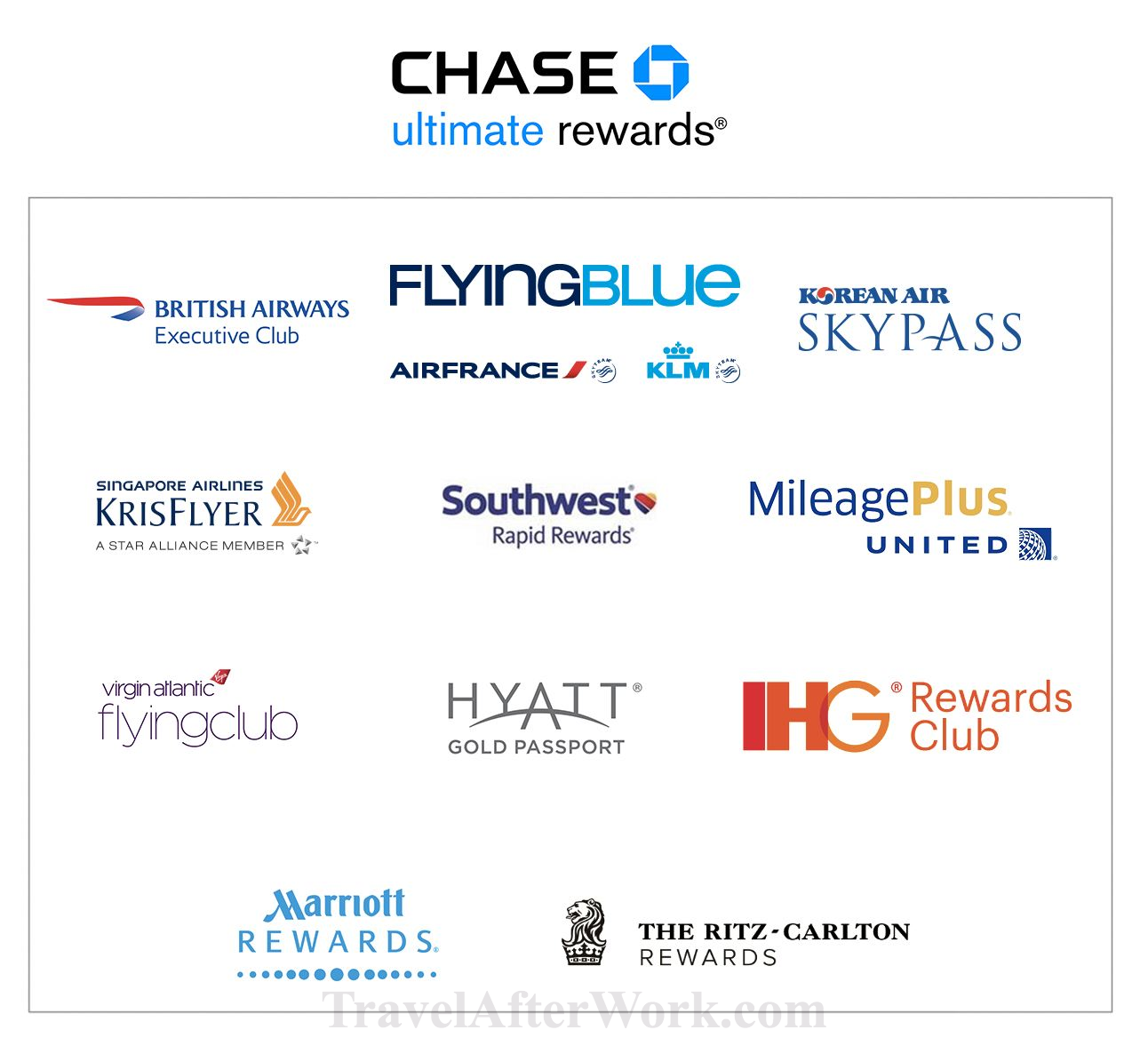 Airline Partners:
Hotel Partners:
Hyatt Gold PassPort.
Marriott Rewards.
Ritz Carlton Rewards
IHG rewards Club
Chase Ultimate Rewards partners cover all there major airline alliance, high service reputation low cost carrier – Southwest Airline, and Virgin Atlantic which has the most frequent schedules from New York to London. So theoretically we could use Chase Ultimate Rewards (UR) to book all the major airlines on this planet.
At the same time, the hotel partners are also amazing including Hyatt, Marriott/SPG/Ritz Carlton and IHG. It also could be transferred to Virgin Atlantic first, then transfer Virgin Atlantic points to Hilton, so Chase Ultimate Rewards also covers all the major hotel groups.
It is usually instant when transferring Chase Ultimate Rewards to most partners. IHG, Marriott/Ritz Carlton and Singapore Airlines typically need 1-2 business day.
Part III. How to maximize the Chase Ultimate Rewards Value
First, let us list the cash value of all the partner points based on the average estimation.
Marriott/RitzCarlton Rewards: 0.9 cent
Hyatt Gold passport: 1.8 cent
IHG Rewards Club: 0.7 cent
United MileagePlus: 1.6 cent
Korean Air Skypass: 1.8 cent
Singapore Airlines Krisflyer: 1.5 cent
Southwest Airlines Rapid Rewards: 1.5 cent
British Airways Avios: 1.6 cent
Air France Flyingblue: 1.4 cent
Virgin Atlantic Flying Club: 1.3 cent
Transferring Chase Ultimate Rewards to IHG and Marriott/Ritz Carlton is excluded from our following discussion since their value per point is obviously lower than other partners. Please check our post on details.
Actually, in order to maximize Chase Ultimate Rewards, we should only consider UR Travel and transferring points to partners (1:1). Which way are the optimized choice are up to what kind of Chase Credit Card you hold, airline/ticket price, award ticket space availability, etc.
We summarized three scenarios for your reference.
Example 1.  Maggie is planning a trip to Amsterdam from the initial of May and back at the end of June. The price from Google Flight is 750 dollar. She has 120K Chase Ultimate Rewards points including the 100K sign-on bonus from CSR. First, she checks that she would need 50,000 Chase Ultimate Rewards through Chase UR Travel center. Second, she also checks the Economy Saver Award availability through United Airline official site. The same route trip needs 70,000 United Miles. So she also could transfer her Chase Ultimate Rewards to United Miles (1:1, so 70K UR to 70K UA). It is clearly that it will save 20K UR plus earning 3750 miles.
Example 2. John wants to purchase a business ticket for his mother's Asia trip from Atlanta to Kunming, China. The cash price is shocking, one way from ATL-ICN-KMG is 3874 dollars. John currently has 65K Chase Ultimate Rewards coming from his Chase Sapphire Preferred sign-on bonus and other daily expanse. 65K Chase Ultimate Rewards only can book 813 dollar ticket from Chase Travel center. However, after going over our blog airline mile sweet spot analysis, he learns that it only takes 62.5K Korean Airline Miles for a business ticket. Therefore, he transferred his points to his Korean Airline account and book this ticket through Korean Airline award redemption webpage. Here, 1 ur equals 6 cent. It exceeds the UR value 1.8 cent 3 times.
Example 3: Jake and Kate are planning a vacation on Miami Beach. Miami is a popular destination. The 3 stars and above hotels are expensive. They have 55K Chase Ultimate Rewards from sign-on bonus of Chase Sapphire Preferred. Hyatt is the hotel partner of Chase UR. After searching, he founded that new brand of Hyatt Unbound Collection —The Confidante Miami Beach only need 25K points or 150 dollar + 12.5K points. But the cash price is 590 dollar after tax. Jake and Kate transferred 25K UR to Hyatt Gold Passport, spend 300 dollar + 25K for two nights. Cash value of these two nights are 1180 dollar.
We hope these examples provide you a basic understanding the ways we redeem our Chase Ultimate Rewards.
Part IV. How to accumulate Chase Ultimate Rewards?
Three major ways:
Sign-on bonus and referral
Use Credit to purchase
Online Portal
1. Sign-on bonus and referral
One of the reason that we love Chase Ultimate Rewards is you have multiple resources to collect points.
Chase Sapphire Reserve (CSR) 50K sign-up bonus, 10K highest,  actual annual fee 150 dollar
Chase Sapphire Preferred (CSP) 55K sign-up bonus, eat/travel 2 UR/dollar annual 95 dollar
Chase Ink Preferred business card, 80K sign-up bonus, 3 UR/dollar on business annual 95刀
Chase Freedom 17.5K sign-up bonus season category 5 UR/dollar no annual fee
Chase Freedom Unlimited (CFU) 17.5K sign-up bonus everything 1.5 UR/dollar no fee
CSR historically highest sign-up bonus is 100K, CSP public sign-up bonus is 55K (In Branch 75K), Ink Preferred 80K, Freedom 22.5K, CFU 17.5K. All these sign-up bonus are around 300K.   All of Chase Credit Cards can be referred to friends. Usually, the referral bonus you can get is 5K-10K per approval with a upper limit of 50K UR per year.
All these cards could be churned. Churn means you can get the sign-up bonus many times by following application->sign-up bonus->close the card->application again->2nd sign-up bonus->2nd close the card->……This generous policy has been torn down. Chase published the famous 5/24 policy because of over churning.
A. In short, chase will not approve your new credit card application if you already applied more than 5 cards in the previous two years. This 5/24 policy is extremely restricted, especially for credit cards solely from Chase Bank itself and parts of co-branded credit cards, such as Marriott and United. This strongly impact the credit card market and the churners. So far, only CPC(Chase Private Client) and In-branch Pre-approval could detour of 5/24 from most Data Point.  Therefore, take a break and raise your credit score!
B. Sign-on bonus only can be obtained once in 24 months. "This product is not available to either (i) current cardmembers of this credit card, or (ii) previous cardmembers of this credit card who received a new cardmember bonus for this credit card within the last 24 months".
C. The ultimate killer move for chase is to close and clear all of your accounts. Check Chase policy. "We close your account if we believe that you've misused the program by repeatedly opening or otherwise maintaining credit card accounts for the sole purpose of generating rewards". This completely targets to money laundry and the ones who break Chase Policy on purpose. This situation is very hard to negotiate with Chase.
Therefore, please churn Chase credit cards by following the policy and be careful about Chase rules.
2. Purchase with Chase Credit Cards
The most straightforward way to earn Chase Ultimate Rewards.
A. Restaurants and travel through CST
B. Freedom for each season category purchase. For instance, 5 times earning on Amazon in winter.
C. For all others purchase, CFU 1.5% everything is a decent choice.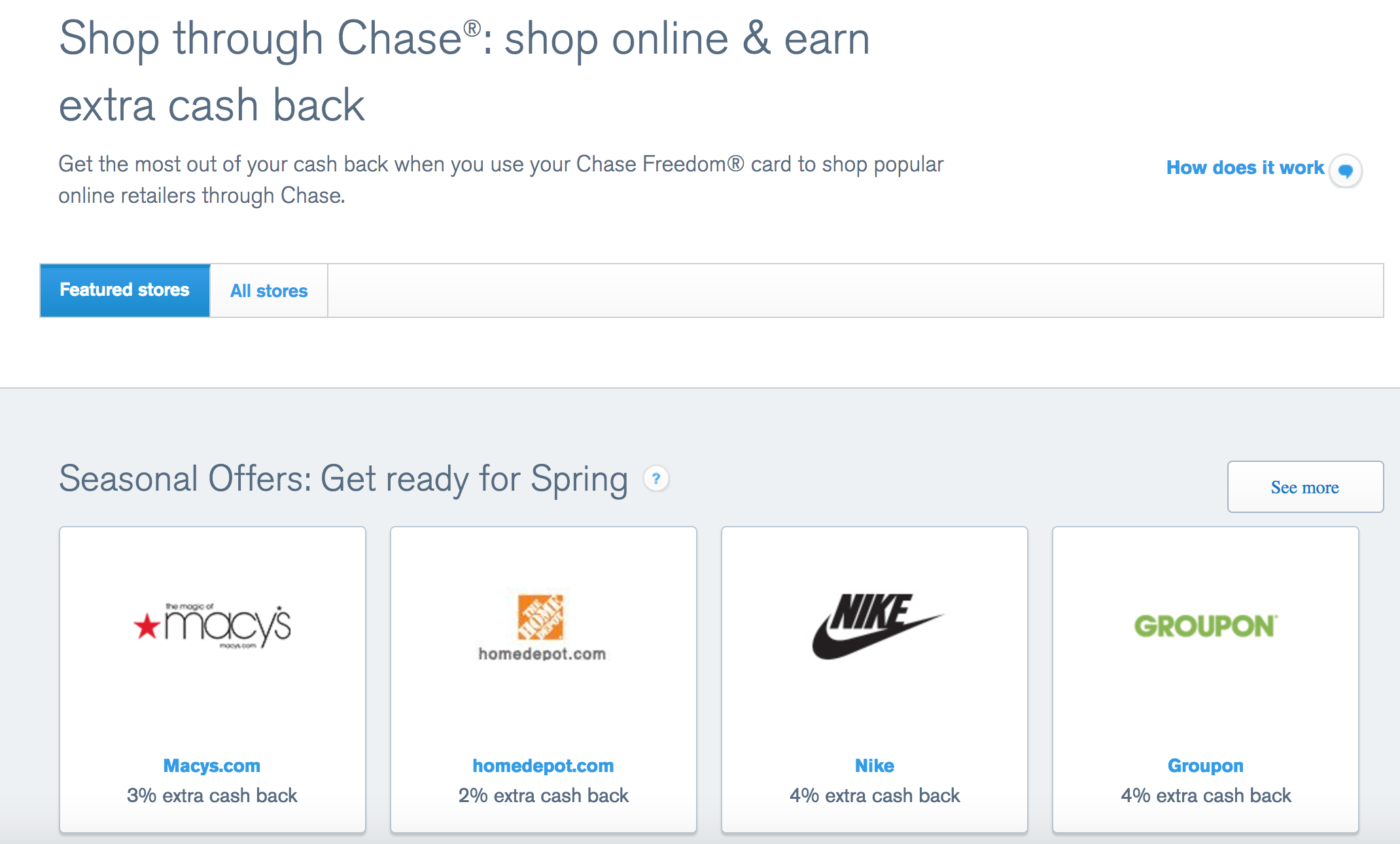 Shop through Chase Online Portal can earn extra Chase UR points besides points earned from Credit card itself.
Summary:
As a complete guide to Chase Ultimate Rewards, we introduce the basic idea how to earn and play with Chase Ultimate Rewards. Please leave your discussion! Feedback is highly appreciated.