美联航 (United Airlines) [UA] United MileagePlus Dining Program现在搞活动,从即日起至6月30日前,注册加入美联航 [UA] 餐饮计划,30天内在参与的餐馆吃6次可获得最多4000里程,这是近几年史高的新用户注册奖励了,以往最多只有3500 miles.。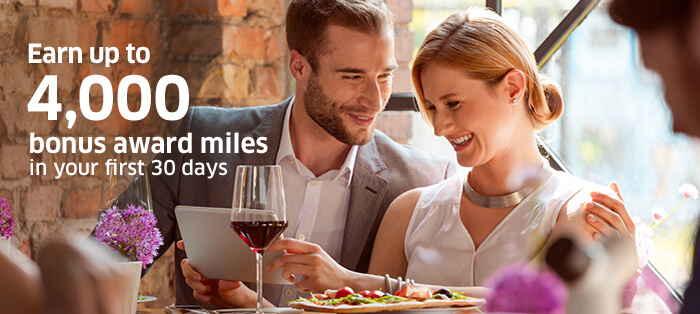 具体活动细则如下:
1. 如果你不是美联航会员,请先去官网注册美联航会员;
2. 免费注册加入United MileagePlus Dining Program,注册链接在活动页面;(以前注册过就不能拿这次的bonus了)
3. 加入之后会让你绑定一张信用卡,以后吃饭用这张卡就能额外获得里程,每个账户可以绑定五张信用卡,如果你参加别的相应的航空Dining Program,你在这些program里面注册的信用卡将会自动删除;
4. 首次新用户注册就能获得500 miles奖励!你无须进行任何消费,只要注册后在账户中添加信用卡(credit cards)或者借记卡(debit cards)即可!非促销时期新会员注册后必须在30天之内有一定额度的消费才能获得里程奖励。在本次促销活动中,你无须进行任何消费,就能白拿500 miles UA里程。 使用已注册的信用卡在注册加入这个program的30天内在参加活动的餐馆吃饭,第一次消费,含税+小费大于25刀(可以帮别人付钱,只要刷卡),你可以获得1000 mile 的里程奖励!从第二次开始,每次含税+小费大于25刀可以获得500 miles,,你可以重复五次这样的消费行为,三十天内将获得2,500 miles! 每天只能参加一次活动!所以一天不能吃两顿或者三顿!新用户注册(500 miles)+ 第一次消费 (1000 miles)+ 重复五次消费 (2500 miles)=4000 miles!
5. 里程将于2017年10月30日之前打入你的UA常客号里程账户。
【活动条款】
This bonus offer is open to all new MileagePlus DiningSM members who have not yet created a web login and registered a credit and/or debit card. To qualify, you must create a web login and register a valid credit and/or debit card by June 30, 2017 at 11:59 p.m. Eastern time, and remain opted in to receive emails from MileagePlus Dining with a valid, deliverable email address. You must also continue to satisfy any other applicable Online/VIP level criteria to earn this bonus.

To earn the initial 500 MileagePlus bonus award miles, you just have to join MileagePlus Dining as described above. To earn any subsequent bonus miles, you must dine at any participating restaurant, bar, or club within 30 days of joining, and spend at least $25 (including tax and tip) on each check. You will earn bonus miles as follows: 1,000 for your first qualifying visit, and 500 for each of your next 5 qualifying visits. All qualifying visits must occur within your first 30 days of MileagePlus Dining membership. Limit one bonus-qualifying visit per restaurant per day.

Please note that some restaurants offer rewards, including the bonus miles under this offer, only on certain days of the week, for a limited number of restaurant visits per month, or up to a maximum spending amount per month. For complete program Terms and Conditions, guidelines, restrictions and the latest rewards calendar, visit dining.mileageplus.com. Other limitations may apply. Terms and Conditions are subject to change.

Please note that all checks must be paid for with a credit or debit card registered with MileagePlus Dining at the time of the visit. You may only earn this bonus once for a maximum amount of 4,000 bonus miles. Offer may not be combinable with other MileagePlus Dining bonuses and each qualifying visit can only apply toward a single bonus, as determined by MileagePlus Dining. All account inquiries related to this bonus must be received by October 30, 2017.

Miles accrued, awards, and benefits issued are subject to change and are subject to the rules of the United MileagePlus® program, including without limitation the Premier® program (the "MileagePlus Program"), which are expressly incorporated herein. Please allow 6–8 weeks after completed qualifying activity for miles to post to your account. United® may change the MileagePlus Program including, but not limited to, rules, regulations, travel awards and special offers or terminate the MileagePlus Program at any time and without notice. United and its subsidiaries, affiliates and agents are not responsible for any products or services of other participating companies and partners. Taxes and fees related to award travel are the responsibility of the member. Bonus award miles, award miles and any other miles earned through non-flight activity do not count toward qualification for Premier status unless expressly stated otherwise. The accumulation of mileage or Premier status or any other status does not entitle members to any vested rights with respect to the MileagePlus Program. All calculations made in connection with the MileagePlus Program, including without limitation with respect to the accumulation of mileage and the satisfaction of the qualification requirements for Premier status, will be made by United Airlines® and MileagePlus in their discretion and such calculations will be considered final. Information in this communication that relates to the MileagePlus Program does not purport to be complete or comprehensive and may not include all of the information that a member may believe is important, and is qualified in its entirety by reference to all of the information on the united.com website and the MileagePlus Program rules. United and MileagePlus are registered service marks. For complete details about the MileagePlus Program, go to united.com.