Comparing other Chase Credit Cards with high sign-up bonus such as Chase Sapphire Preferred, Chase Sapphire Reserved, and freedom, Chase Slate Credit Card is pretty low key. Actually, Chase Slate Credit Card comes along with great benefits, especially the unbeatable no balance transfer fee feature.
Tips: what is balance transfer?
"A balance transfer is when you pay off the balances on existing cards or loans by transferring them to another credit card account. (In some cases, you may be charged a fee to complete the balance transfer—typically a percentage of the transfer balance." from Discovery.com.  It means we can use one credit card to pay the balance of another credit card. We will demonstrate an example in the end of this post.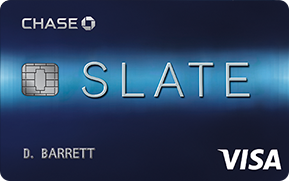 Sign-up Bonus
No sign-up bonus
Peak of Sign-up Bonus
No sign-up bonus
Annual Fee
No annual fee
Prerequisite
As one of Chase basic credit cards, it is relatively easy to approve.
Chase Slate is also restricted by Chase maximum 5 cards in the last two years AKA 5/24 policy.
Our blog TravelAfterWork (TAW) recommends to apply Chase Slate Credit Card after you have at least one year credit history. Please call Chase 888-270-2127 or Chase 888-609-7805 for reconsideration if your application is pending.
How to apply
Features and Benefits
Pay no balance transfer fee when you transfer a balance during the first 60 days your account is open. After the first 60 days your account is open, the fee for future balance transfers is 5% of the amount transferred, with a minimum of $5. – Chase.com. This will be super helpful when you have to make large purchase but short of cash. For instance, you just move into a new house, and made 10,000 dollar purchase for interior decoration through Chase Slate Credit Card. Instead of paying off the balance in the next billing cycle as "normal credit card requirement", you do not need to pay off the balance of Chase Slate until the next 15 months. This can provide you lots of flexibility of money flow. In order to avoiding 5% fee, you have to make the purchase in the first 60 days from account opening!!!
Chase Slate also offers 0% intro APR for 15 months on purchases and balance transfers from account opening. It goes up to15.74%–24.49% variable APR based on purchase. This should provide you enough time to refigure out your finical situation.
Chase provides you free access Experian FICO credit score per month. So you can monitor, track, analyze and further improve your credit score.
Your interest rate (APR) will not be increased even paying late.