自2017年9月18日至2017年11月18日,乘坐Amtrak获得双倍积分。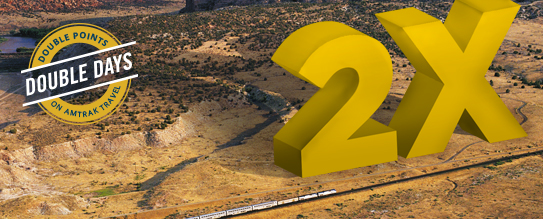 【活动时间】
2017年9月18日至2017年11月18日
【活动网站】
https://amtrakguestrewards.com/DoubleDays17 (必须在活动网站注册才能获得双倍积分)
【活动内容】
自2017年9月18日至2017年11月18日,乘坐Amtrak获得双倍积分。
【活动条款】
Earn double points on qualifying Amtrak travel from September 18, 2017 12:00:00am CST through November 18, 2017 11:59:59pm CST. Must be an Amtrak Guest Rewards member and register for this offer online at AmtrakGuestRewards.com/DoubleDays to participate. Members must include their membership number when making reservations for travel to qualify. Limit of four qualifying one-way segments per day. Amtrak Guest Rewards points will not be awarded for cancelled or refunded reservations or tickets. Other terms and conditions may apply. Double Days is a service mark of the National Railroad Passenger Corporation.

*For more information about the rates, fees, other costs and benefits associated with the use of this credit card, click on Learn More and refer to the disclosures accompanying the credit card application for the card product you select. This credit card program is issued and administered by Bank of America, N.A. Mastercard and World Mastercard are registered trademarks of Mastercard International Incorporated and are used by the issuer pursuant to license.

©2017 Bank of America Corporation
Amtrak and Amtrak Guest Rewards are registered service marks of the National Railroad Passenger Corporation.