[Updated on 9/12/17]
This card is finally referable. The referral signup is the same as current public ones, 50,000 UR If you decide to apply for CSR you can use Our referral link to support us or better if your friends and families if they have the card and can refer you.
If you have this card and want to refer your friends, click here
[Updated on 5/16/17]
Chase has changed the terms for "Annual Travel Credit. " Starting from May 21st, cardholders' annual year for receiving travel credit will change to membership year. If you apply for the card before May 21st, you can receive your travel credits twice before Chase charges your annual fee. The first time you will receive it is before December 31st, 2017. The second time is before the month when you apply for this card. Then you can downgrade your card to CSP if you want.
After May 21st, new cardholders' annual year is the same as his/her cardmember year. For those who applied for this card and got approved before May 21st, starting from 2018, your cardmember year is the same as the calendar year. Your annual credit benefit will be renewed after your December statement is generated.
$300 Annual Travel Credit: $300 Annual Travel Credit: A statement credit will automatically be applied to your account when your card is used for purchases in the travel category, up to an annual maximum accumulation of $300. Annual means the year beginning with your account open date through the first statement date after your account open date anniversary, and the 12 monthly billing cycles after that each year. (For applications submitted before May 21, 2017, annual means the year beginning with your account open date through the first December statement date of that same year, and the 12 billing cycles starting after your December statement date through the following December statement date each year.)
The Chase Sapphire Reserve Visa Infinite was launched in the summer of 2016. This premium card highly lifted up chase credit market share but did make Chase pay a lot for the sign-up bonus and the card itself.

Like American Express Platinum card and Citi Prestige card, this card is kind of like Chase's first real "Black card" for public, while the Ritz-Carlton Visa Infinite (used to be visa signature) is "black" and luxury but is not suitable for the most public.
On March. 12 2017, this card lowered its signup bonus from 100,000 UR to 50,000, 50% off, and we're not sure when the new highest offer will come again.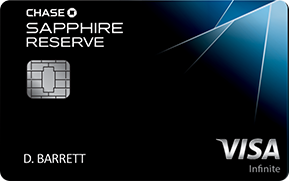 Overall Score:

Approval Rate: Quite difficult. It has certain requirements on the credit score/history as a Premium card of chase. Plus, chase 5/24 rule also applies to it.

Points/Cashback: 3X UR on travel and restaurant.

Travel Benefit: Elite status with National Car Rental, Avis and Silvercar when you book with your card

Travel Protection: Primary rental car insurance (CDW), 6 hours delay protection.

Purchase Benefit: Purchase Protection, Extended Warranty, Price Protection, etc.

Sign-on Bonus: 50K (100K highest offer, which is pretty much unbeatable among all kinds of cards).


Annual Travel Credit: Unbeatable feature. Receive up to $300 in statement credits annually as reimbursement for travel purchases such as airfare and hotels charged to your card. REMEMBER, airline tickets are included, unlike Amex Platinum, which means the equivalent annual fee is only 150 dollars with all the great features.

Card Presentation: Heavy, glossy, high-end!!!! (not heavier than the new Amex Platinum card and Ritz Carlton visa infinite, which is the heaviest of all )

Sign-on Bonus
50,000 Chase UR Ultimate Rewards points after you spend $4,000 on purchases in the first 3 months. It can be redeemed through Ultimate Rewards (UR) travel center directly for $750. It will be even more if you choose to transfer Ultimate Rewards (UR) points to Chase Airline and Hotel partners, such as United Airline Mileageplus miles, Korean Air Skypass miles and World of Hyatt points.

Annual Fee
450 dollar, first year AF not waivable. Extra 75 dollar for each authorized member. Authorized user has most benefits as primary cardholder has.
Approval Requirement
Chase Sapphire Reserve Visa Infinite's approval is under the Chase 5/24 rule. The minimum card limit is reported by 10K, the same as Ritz Carlton Visa. Pre-approval in branch usually get you bypass the 5/24 rule, but recently it seems not working well, so if you're over 5/24, don't try to apply for it.

In case you don't know: 5/24 is the rule is "If a chase credit card applicant has successfully applied for five or more credit cards from ANY issuer in the last 24  months,  Chase will most likely deny the application, even if the applicant has near perfect credit history."
[updated on Aug. 2017] New restrictions: If you currently have any kinds of sapphire card by Chase (No AF version/$95 AF version/$450 AF version), or if you had any sign up bonus of any sapphire cards in the past 24 months, you will NOT be approved for any sapphire credit cards.
How to Apply
How to redeem the bonus points
Chase Ultimate Rewards
Chase Ultimate Rewards points can be transferred to chase airline and hotel partners as 1:1 ratio, refer our blog — Complete Guide of Chase Ultimate Rewards. for detailed use of UR. Get 50% more value when you redeem for airfare, hotels, car rentals and cruises through Chase Ultimate Rewards®, which makes 1 ur = 1.5 cent, direct cash value. This feature definitely beat Chase Sapphire Preferred which only provides 1.25 cent/point value.
Purchase Benefit
3x UR Points for restaurants and travel ( Value of 3 UR is 4.5 ~ 5.4 cent, equivalently 4-5% cash back.

1% UR Points for any other purchase.

All UR points can be redeemed at Chase Ultimate Rewards Travel Center for 1.5 cent/point.

No foreign transaction fees (FTF)

Travel Benefit
【Annual Travel Credit】Receive up to $300 in statement credits annually (Calendar year) as reimbursement for travel purchases such as airfare and hotels charged to your card.

Remember, this is automatically reimbursed in qualifying purchase, which covers a wild range of travel, including airline tickets and hotels. You don't need to do anything but make the purchase with the card. It is better and easier to use than Amex Platinum, J.P. Morgan Ritz Carlton and Citi Prestige annual travel credit. And similar to U.S Bank Altitude Reserve card's annual credit $325


【Rental Car Benefit】Special car rental privileges from National Car Rental, Avis and Silvercar when you book with your card. You can get National Car Emerald Club Executive status (second from the top tier) for free with this card.  Also, using code 5030849 when you rent a car with National, AWD S107100 with Avis, and VINFINITE with Silvercar (30% off)

;

【Road Assistance】Up to 4 times road assistance per calendar year. Up to 50 dollar off each time. Rental car is not eligible.

You have to be 50 miles away from your home to use this benefit. See details here.

【Lounge Access】Cardholder including authorized cardholders can obtain Priority Pass Select membership upon registration.

enroll here

and bring unlimited (there's a limit, but normally you won't reach it) guests for free. Amex Platinum can not bring guests. Amex Platinum's PPS can now entitle you to bring 2 guests for free after raising the annual fee from $450 to $550. Refer to PPS term

PPS Website

.

【Visa Infinite Luxury Hotel】The Luxury Hotel & Resort (LHRC) is essentially a hotel booking portal provided by the card. Special benefits, such as complimentary upgrade, complimentary breakfast for two, and in-hotel credit will be awarded to you; Also as a visa infinite card, you can get access to Visa Infinite Luxury Hotel Collection website too, which provides similar benefits as LHRC by Chase.
【Relais & Chateaux】As one of the top luxury hotel chains, the Membership of Relais & Chateaux —- Club 5C is invited only. Usually the invitation will be directly sent to the guests who spend more than 18 nights in the previous year. If you hold Chase Sapphire Reserve Visa Infinite, you will be prompted to Club 5C member after just 2 or more nights stay. Club 5C is certainly a privilege for guest staying in their hotels and resorts, such as arranging private tour to historical site and private dinner.
【TSA/GE Fee Reimbursement】$100 Application fee of Global Entry/TSA Pre will be reimbursed every 4 years.
【Primary Coverage for rental car】Refer to our post on rental car insurance provided by credit card (not translated yet)
【Travel Delay】Up to 500 dollar cost resulted from travel delay of more than 6 hours or requiring an overnight stay can be reimbursed, if the trip is purchased with this card.
【Luggage Lost/Delay】Up to 3000 dollars can be claimed for reimbursement for luggage lost. and up to 100 dollars per day for 5 days if your luggage is delayed for more than 6 hours, if the trip is purchased with this card.
 Chase Sapphire Reserve Visa Infinite does not provide the amazing benefit "$100 off airline ticket for two" which the Ritz Carlton visa infinite and City national Crystal visa infinite does.
Purchase Benefit
Other Benefit like Purchase protection,  Extended Warranty, Price Protection, Return Protection are like most premium credit card, please refer to the card benefit guide mentioned above.